Girls basketball open gyms have been changed from Monday mornings to Tuesday mornings from 8-9am
Just a reminder. The Cody-Kilgore Fitness Center Memberships are in the Cody Office. It is $100 for a family membership. The weight room will be open 24/7 in the summer to all families that have purchased a membership.

PTO Meeting Notes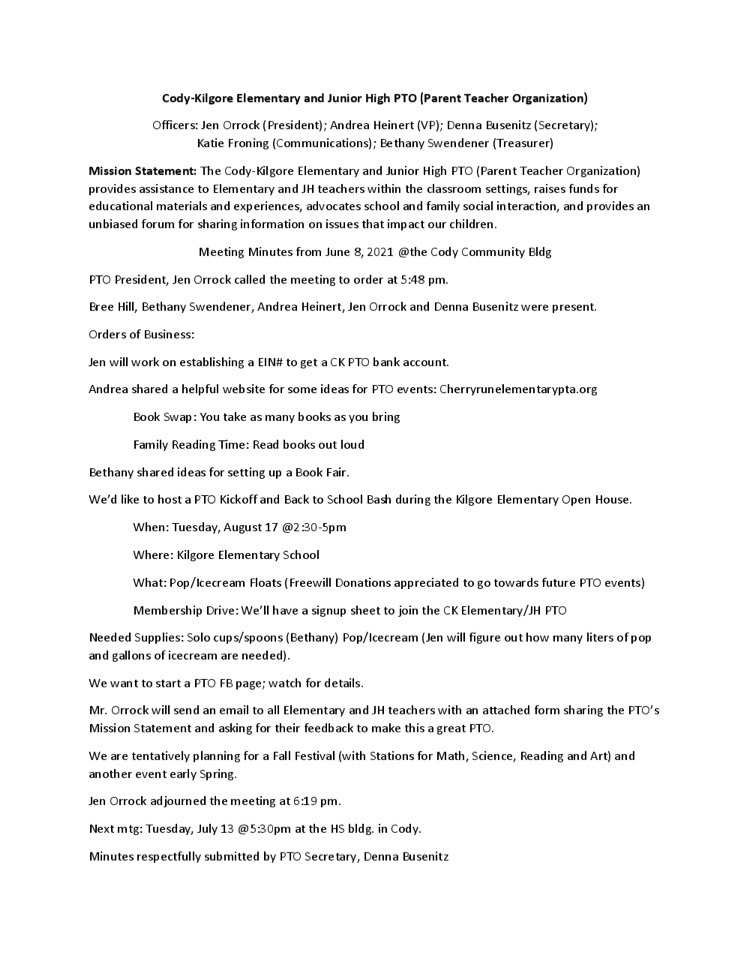 Bookmobile will be stopping today. Cody 10:00 a.m.-11:00 a.m. Nenzel 11:15 a.m.- 11:45 a.m. Kilgore 12:00 p.m.-1:00 p.m.
Mr. Hamilton will have the weight room open on Mondays and Thursdays at 6:00am. Coach Heath will have the weight room open Tuesday evenings at 7:00pm. Looking to open it more days depending on numbers of kids interested.
Girls Basketball Summer Schedule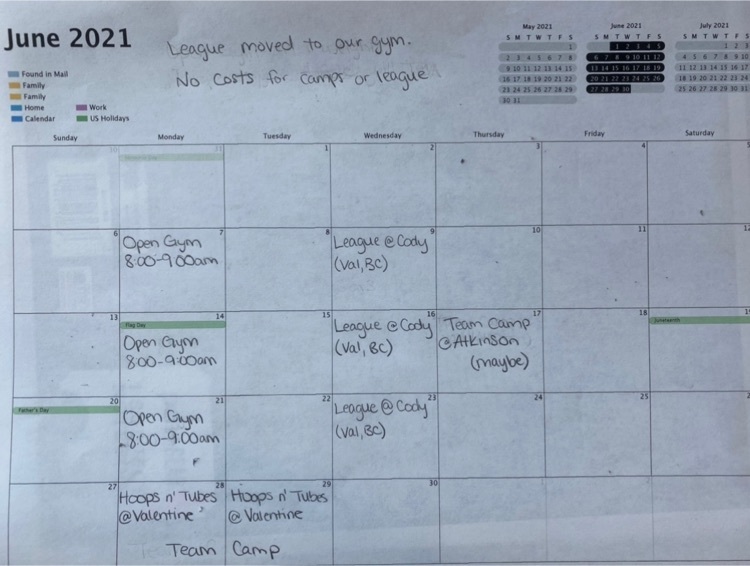 Congratulations on a successful 2021 track season! Elle placed 16th in the 100m dash and 22nd in shot put at the state meet.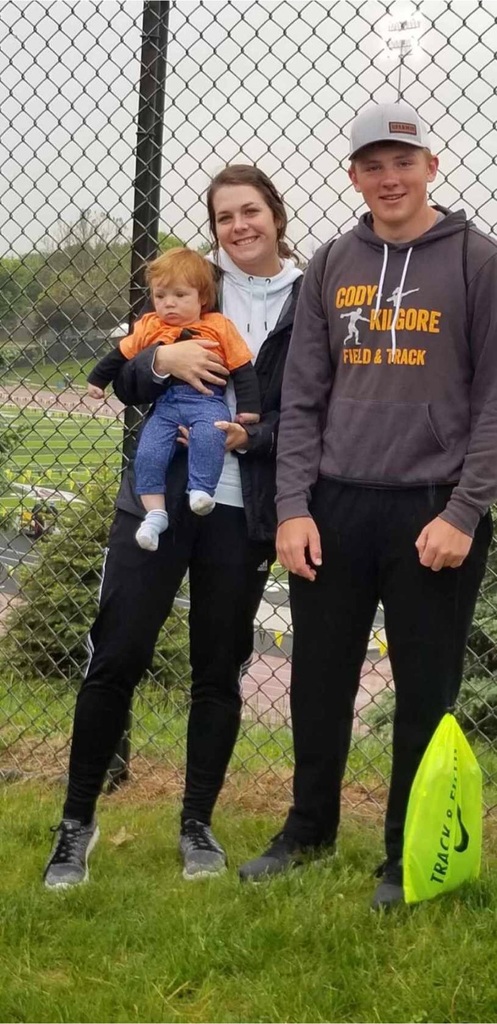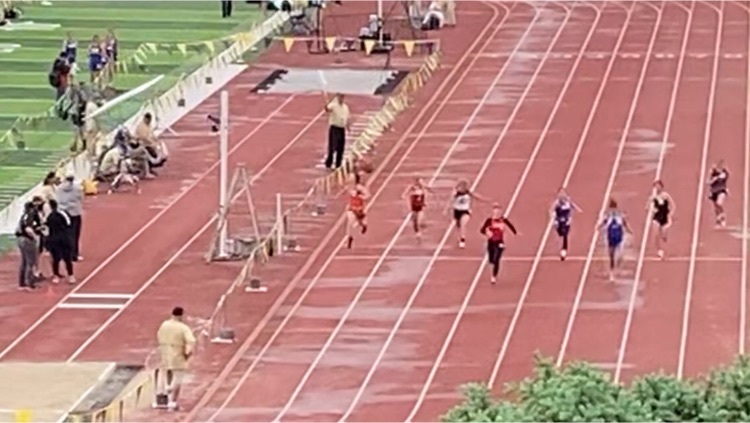 Mark Your Calendars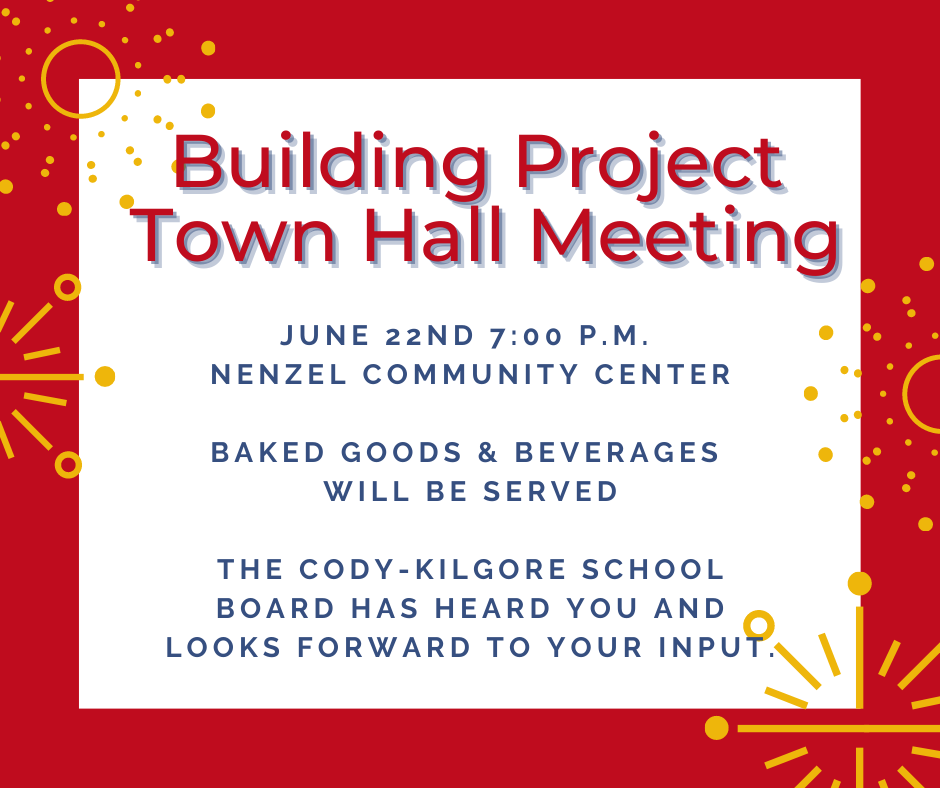 Please see the information posted below for available Tractor Safety Classes.
Reminder the Bookmobile will be coming to town today. We will not be exchanging leveled readers.

The BookMobile will be here for the Summer! We hope you can utilize it this summer for all your readers at home!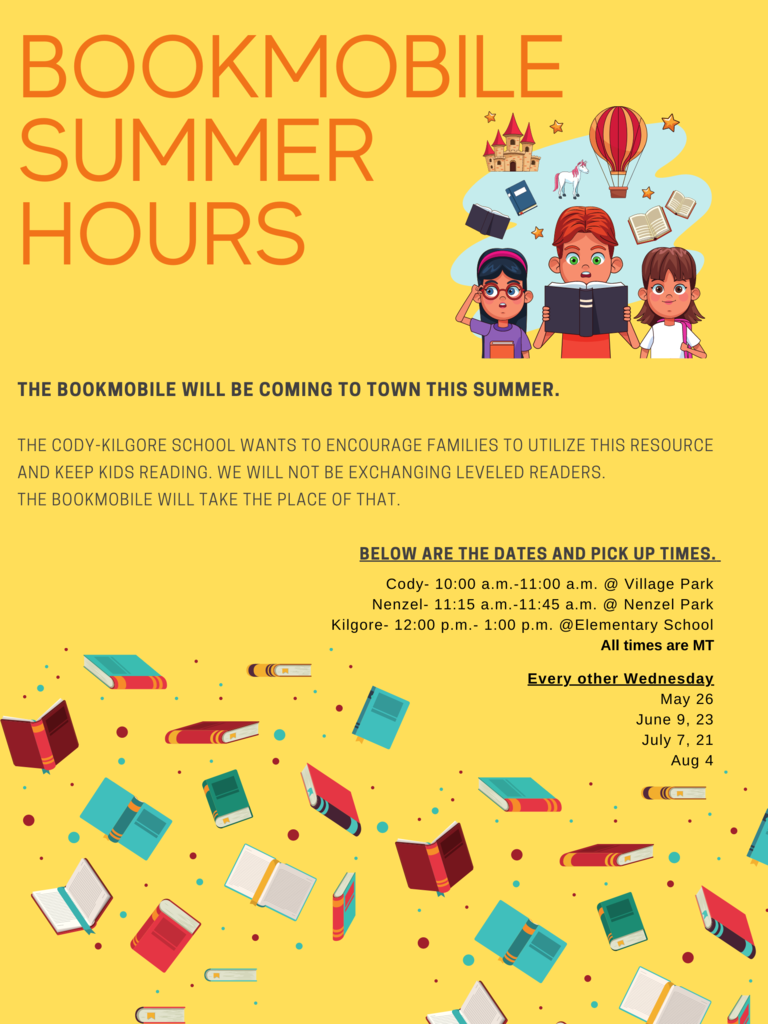 State Track... Dylan set a new school record in shot put 46' 10" for a 10th place finish. He finished 19th in discus.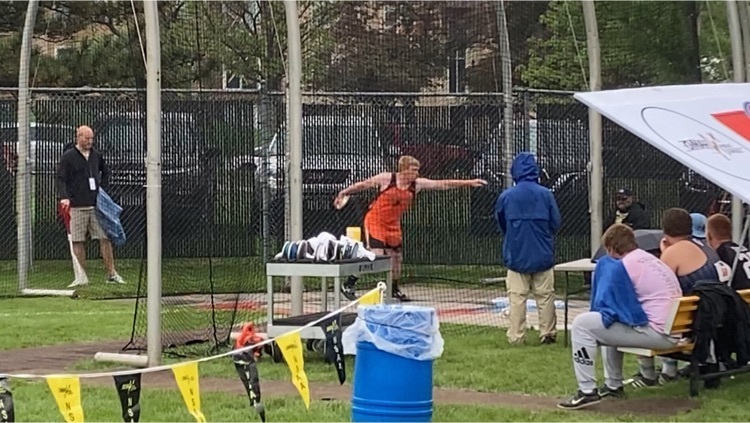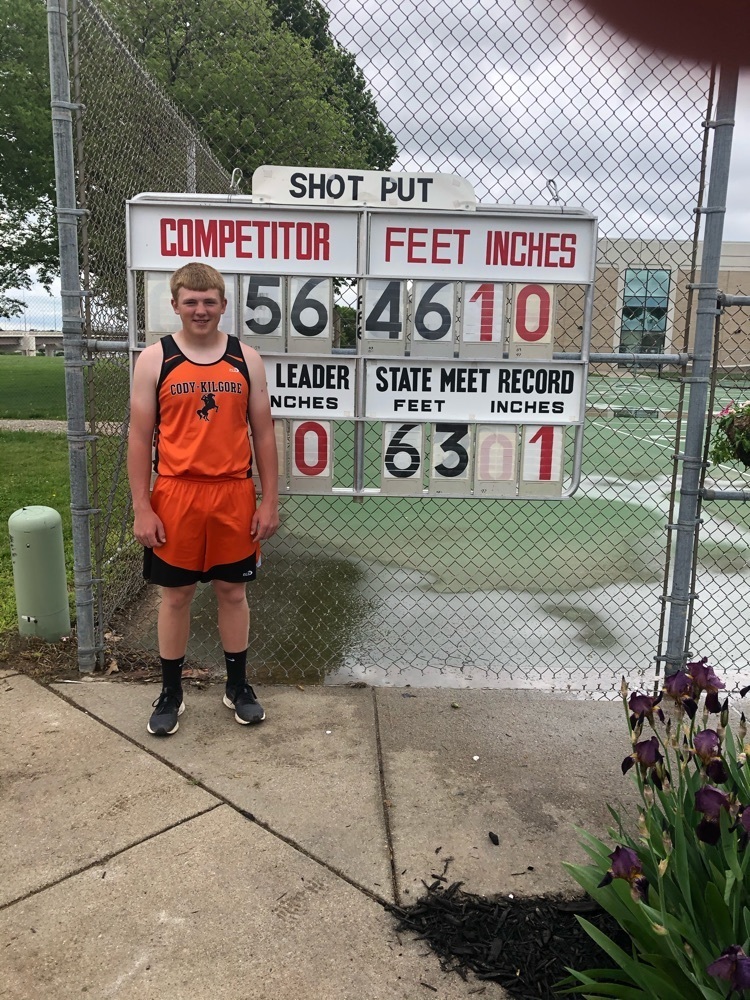 Circle C Market will no longer be able to charge orders after May 20th. Circle C is more than happy to load a gift card for customers to use as a prepaid account. We are sorry for any inconvenience this may cause. If you have a temporary hold in our system you have until June 1st to pay your hold. Please understand that student and adult employees have been instructed of this change and we would appreciate your cooperation in this matter. We are more than happy to accept Cash, Checks, Credit cards or Circle C Gift Cards as a form of payment. Thank you in advance for your cooperation.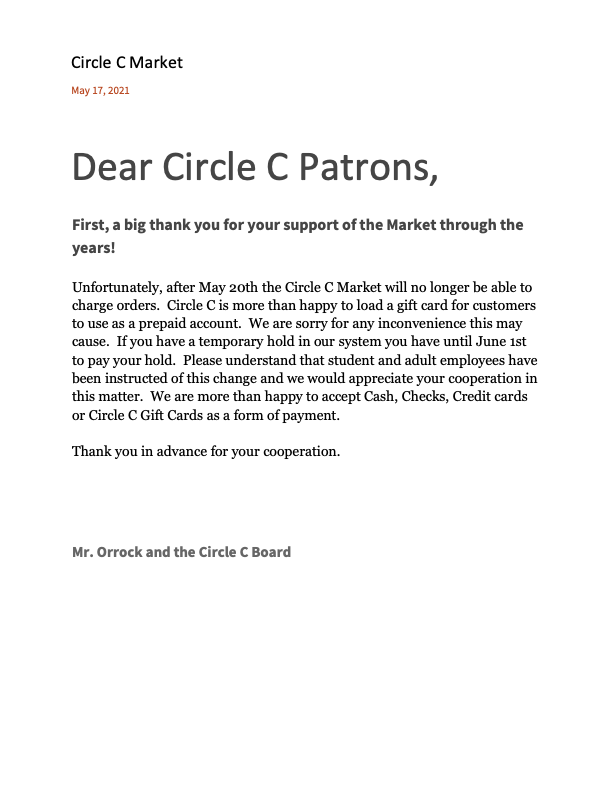 The Cody-Kilgore School would like to open the gymnasium and the weight room for public use. If you would like to become a member all you need to do is pay the annual family fee and can use the facility during the times listed. The start date to use your memberships is on June 1, 2021. If you have any questions please contact the High School Office.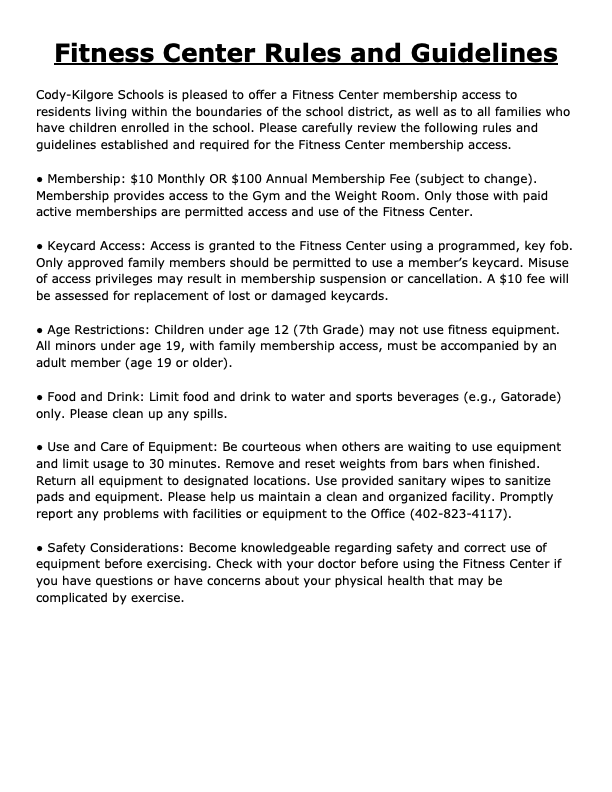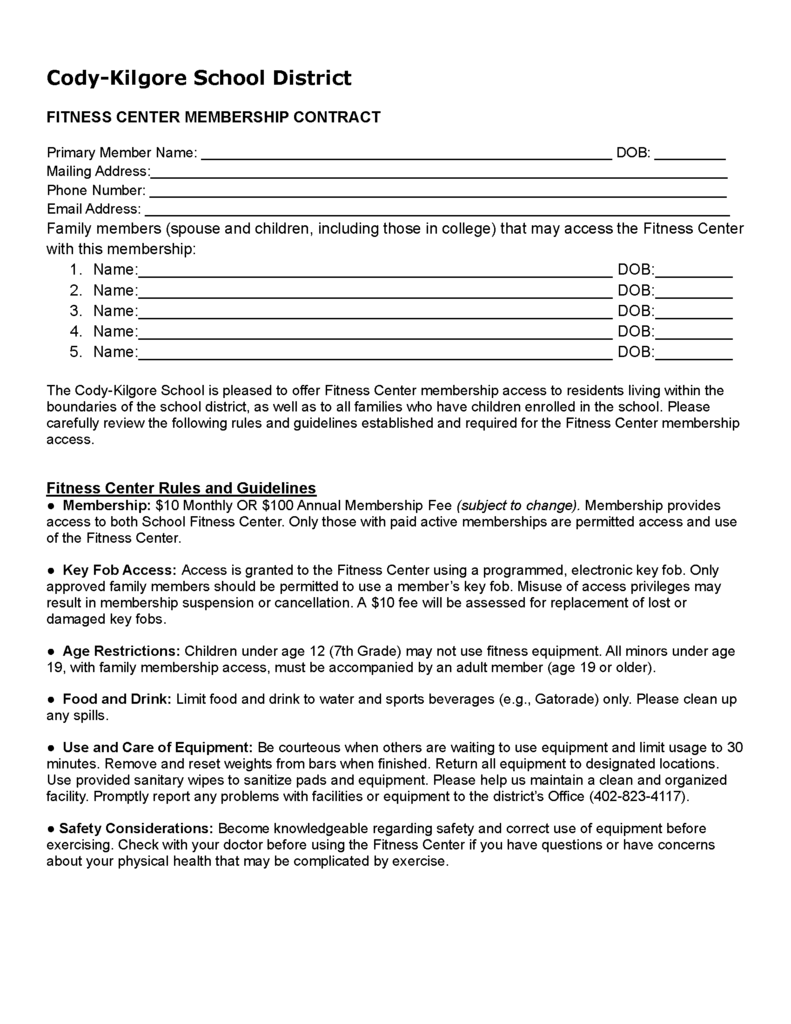 Help us send off our State Track Qualifiers, Elle & Dylan! Meet at the main intersection of Cody at 8:50 am Tuesday, May 18th.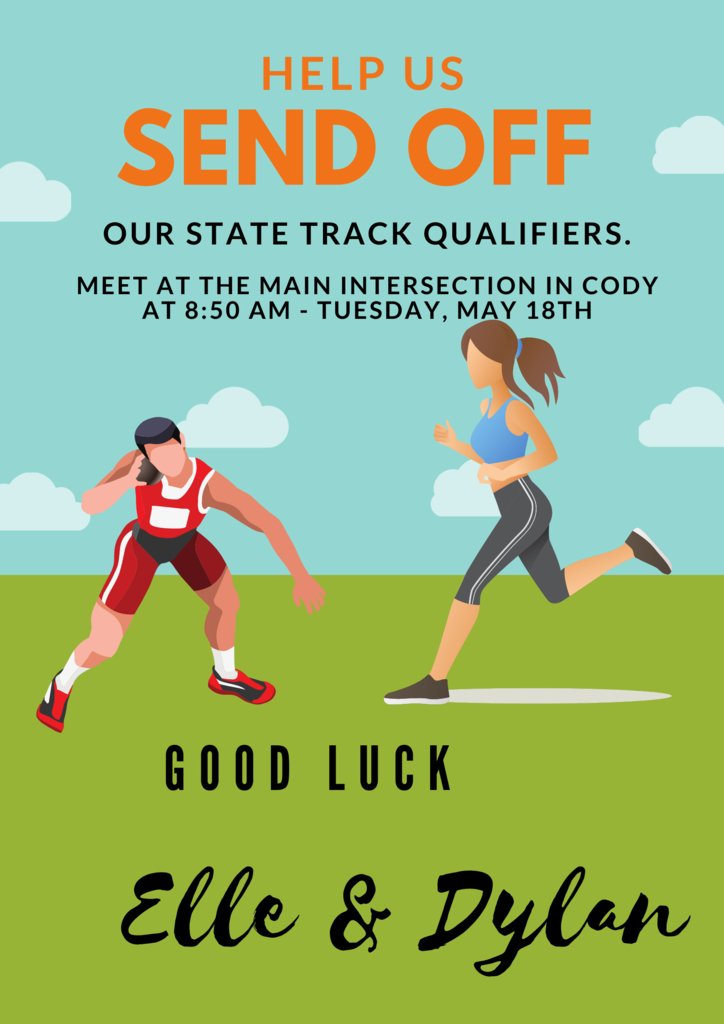 Congratulations to our Circle C Scholarship Winners. Blake S. $1000, Abi D. $250, Emmalea O. $100. Congratulations and thank you for all of your hard work!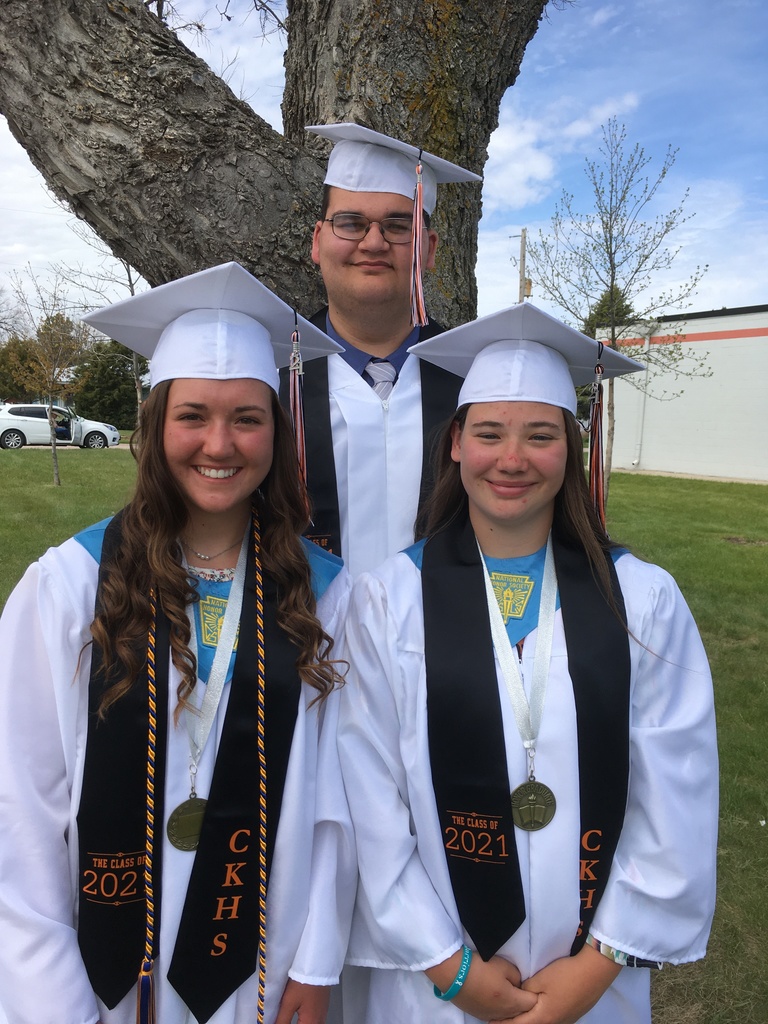 Our CK track and field team participated in districts last Wednesday and competed hard. Dylan qualified for the state meet in shot put and discus. Elle qualified for the state meet in shot and the 100 meter dash. Congratulations to all on a great season and good luck to these two at State.
Congratulations to these ladies on a great JH State Track Meet. Ayden placed 3rd in discus and 5th in shot put. Tacey placed 8th in the 100m hurdles. Your track futures are bright!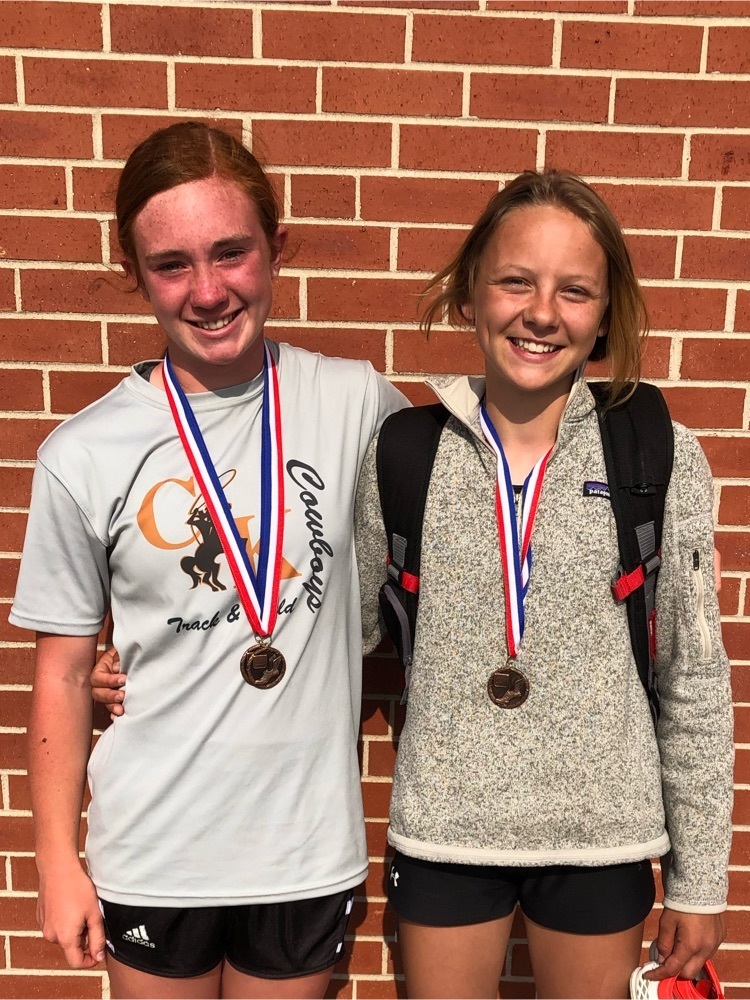 Congratulations to our newly inducted 2021 National Honor Society members and to our graduating NHS seniors!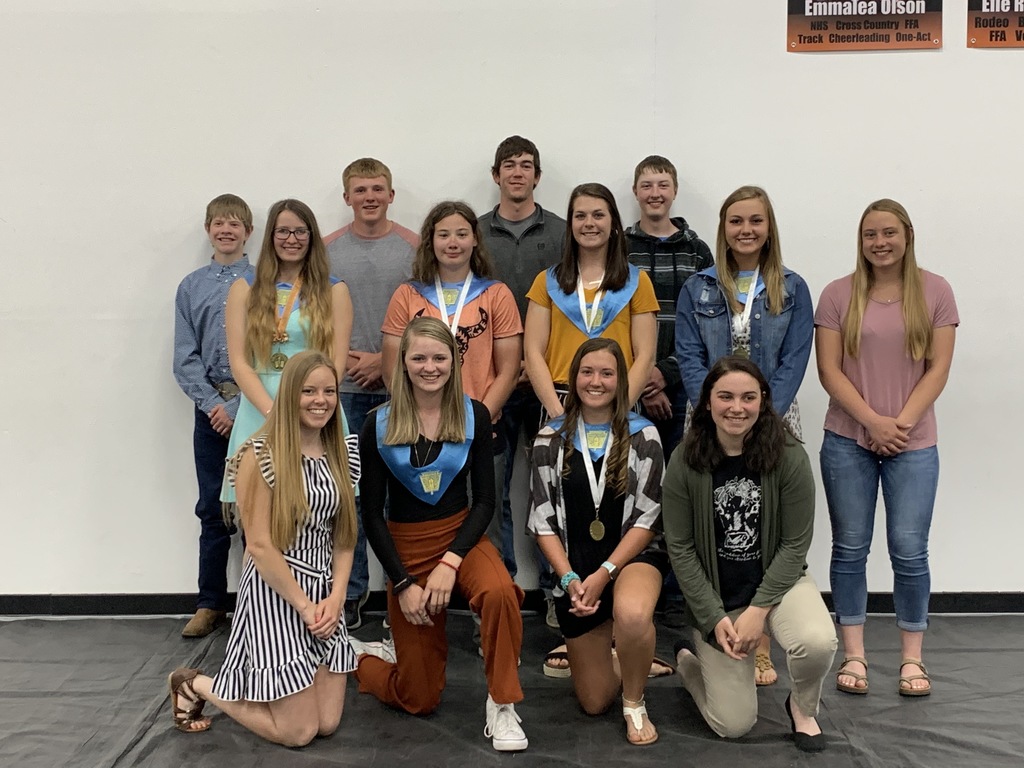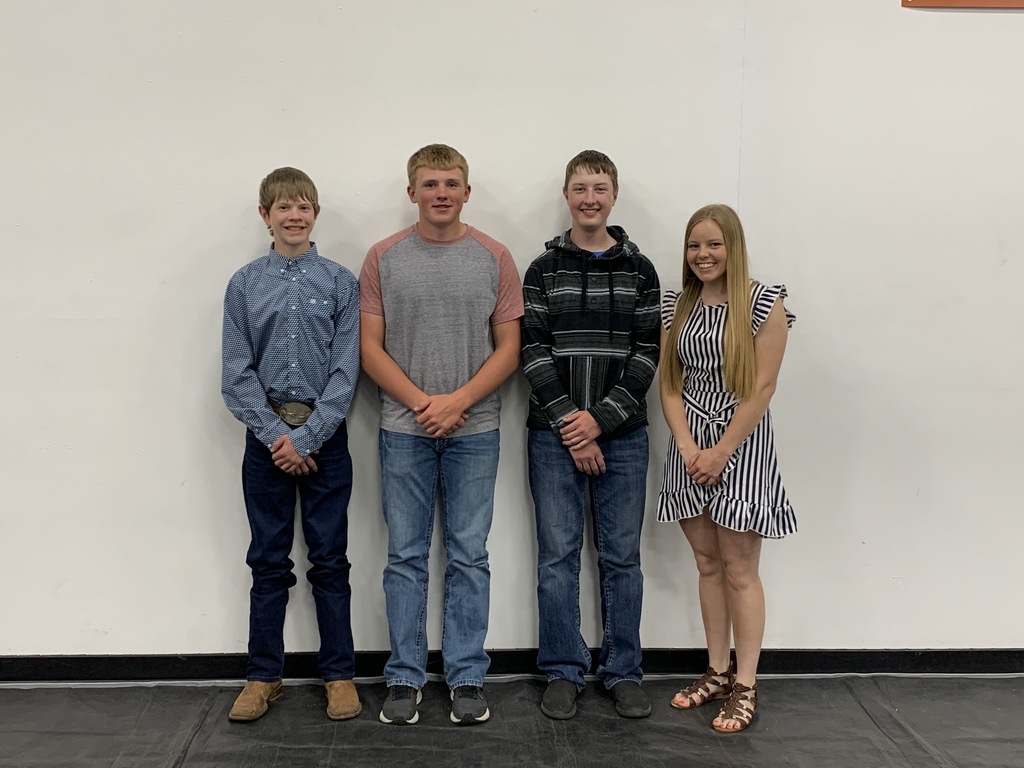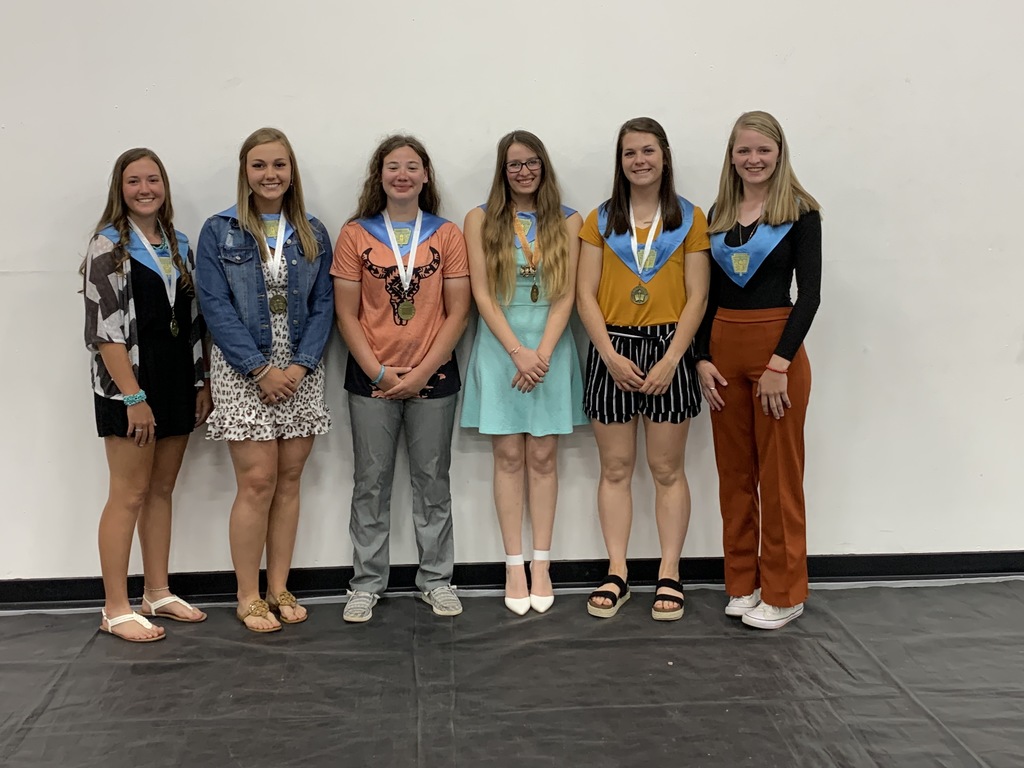 Congratulations to Taylor Cady on being accepted to Eastern Wyoming College! Taylor will be attending the Douglas campus and majoring in Gunsmithing. Good luck, Taylor!