Don't forget about Elementary dress up days this week for homecoming!

Please see the attached photo with the line up of events for Homecoming next week! It'll be fun!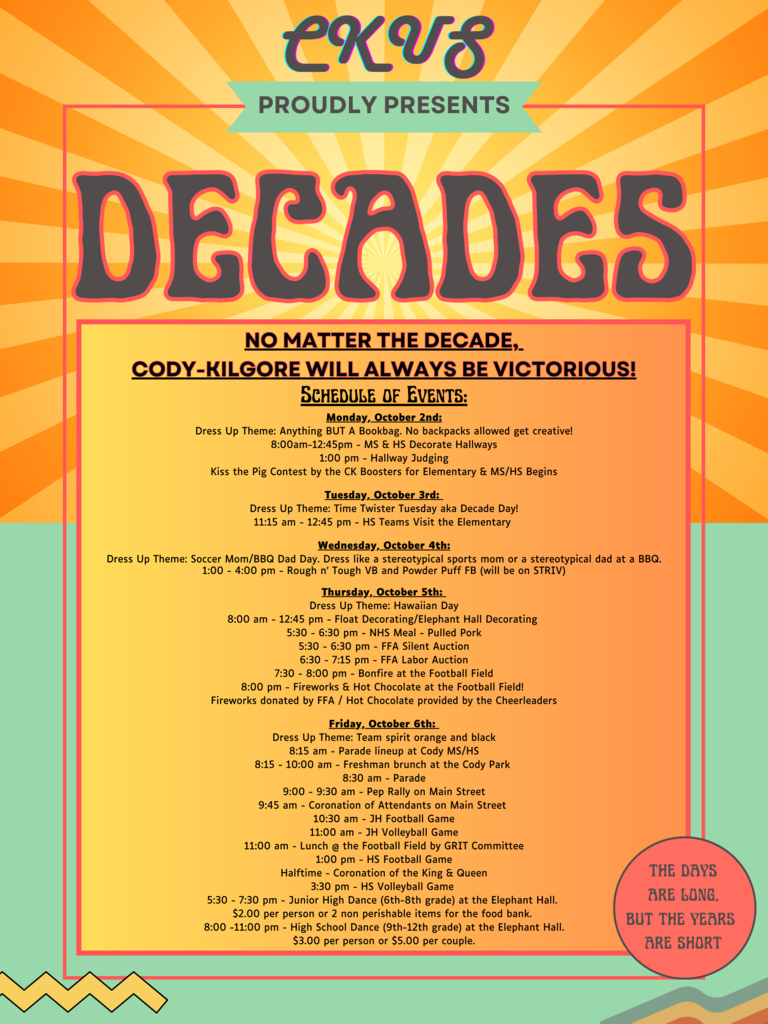 There will be no youth group tonight at SCH.

There will be no volleyball practice for both Junior High and High School tonight, Wednesday, September 25th, after school.
Cody-Kilgore Homecoming committee has worked out the details to have a Junior High Homecoming Dance! The dance will be from 5:30-7:30 PM at the Elephant Hall on Oct 6th! We appreciate the Junior High parents sharing their input with the Homecoming committee. We are excited to give JH students the opportunity to dance their tails off with their peers! We are in need of Junior High parents to help chaperone the dance with the Homecoming Committee and Principal Galvin. We also need Junior High parents to bring snacks, drinks, and goodies for our students! Please contact us at 402-823-4117 to let us know if you are able to chaperone and/or bring snacks!
Join us for the Cowboy Football Tailgate sponsored by Security First Bank & Security First Insurance! The tailgate starts at 12 PM! Thanks to Security First Bank & Insurance, the food and drinks are free! Varsity Football Kickoff at 1 PM JV Volleyball at 4:00 PM Varsity Volleyball to follow JV game. 🧡🖤Come support our Cowboys & Cowgirls!!🧡🖤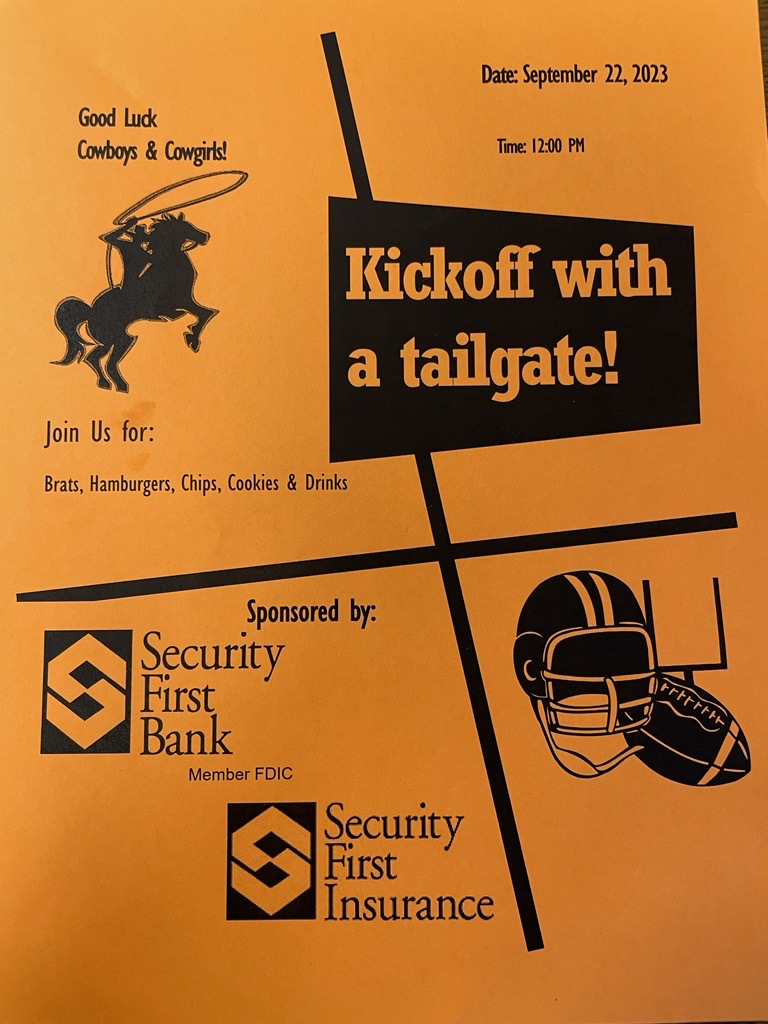 Parent's night will be celebrated at homecoming on October 6th.
Reminder Cowboy GRIT will be at the football game on Friday by the shooting range during the football game. If you would like to get your brand on a board or you want your business on a board you may donate at the game. Plaques will be put up in the Cody-Kilgore School Building.
Big thanks to Three Bar Cattle Company for their Beef to schools Donation. The Cody-Kilgore students will get to enjoy home grown beef for awhile.
Matching staff. They must have coordinated this.
First graders are beginning to study how family and community members make our communities special. We will be writing persuasion pieces giving evidence of why our community is so great and why we love the Sandhills! First grade parents did a phenomenal job helping their children come up with reasons why their families love the Sandhills!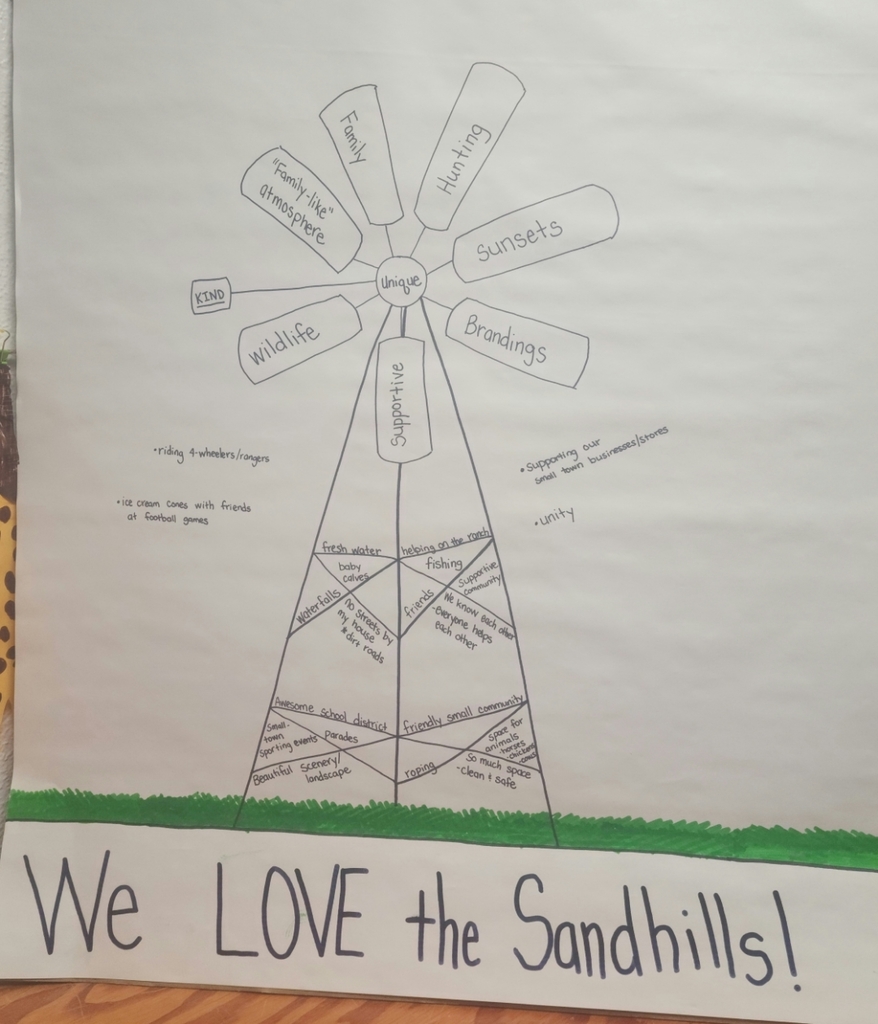 Bennett County vs. Cody-Kilgore Volleyball game times: JV starts at 5 p.m. Varsity to follow JV game, and the approximate start time is 5 p.m. Come out and watch our Cowgirls take on the Warriors! 🧡🖤Go Cowgirls!🧡🖤
Due to NSAA granting a waiver for CKJH Volleyball, they will practice at the HS gym for the remainder of the season. Practice time remains the same, starting at 4 p.m. If you have any questions, don't hesitate to get in touch with the CKHS/JH office at 402-823-4117
The homecoming dance will only be for 8th through 12th graders. Junior High will be having a spring dance. More details to come soon!