There will be HS Football as normally scheduled.

JH Volleyball will practice in the Cody Gym this afternoon, not the Elephant Hall.

The FFA Kick-Off Picnic has been moved to next Tuesday, August 29th at 6:00 pm (after practice) In the park. Any interested student 8th-12th grade is welcome to attend.
Booster Club Meeting Wednesday, August 23rd, 5:30 PM at the Cottage. Join us to brainstorm ideas and plans for the 23-24 School Year! Booster Club is in dire need of parent and community volunteers. Please come and help CKUS Booster Club be a huge asset for our Cowboys and Cowgirls!! Contact Michelle McNare @ 402-322-1438 with any questions

Season Passes are now available at CKUS! Please See the information on our website/app/or on Facebook. You can purchase a season pass at the Cody Office with Denise or Carrie!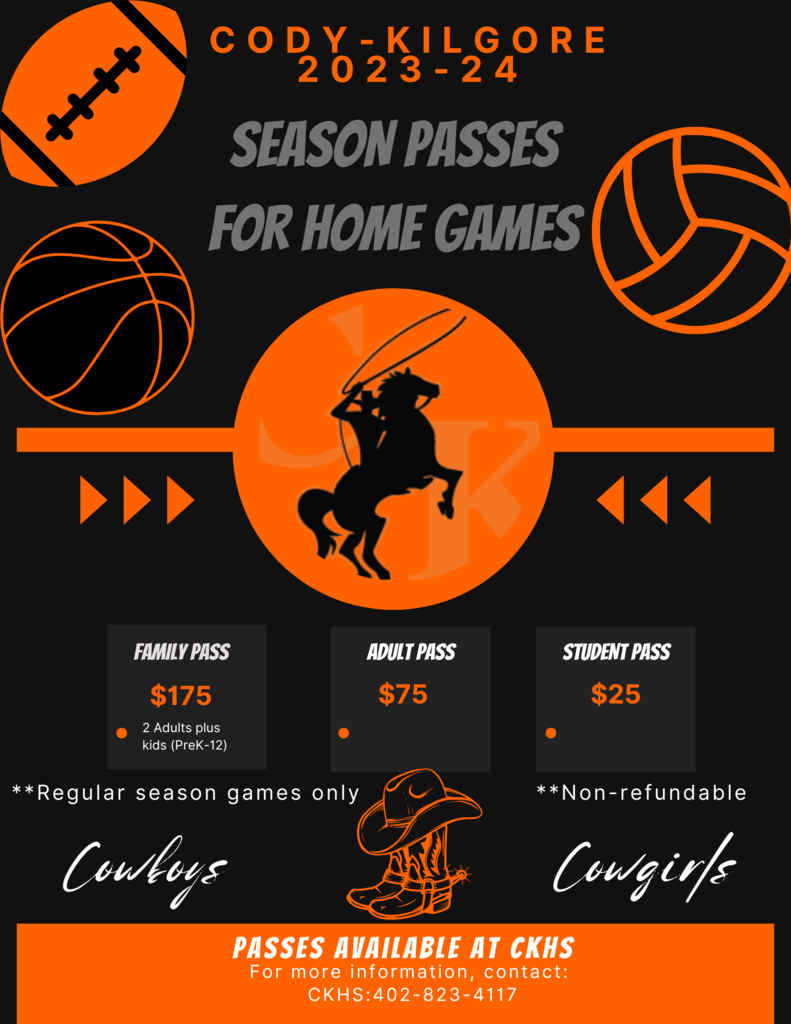 Due to incoming heat, on Tuesday, August 22nd, HS football will practice from 5:30 AM to 7:30 AM. For JH/HS FB practices, we will be closely monitoring the weather from Monday, Aug 22nd through Wednesday, August 24th. We will update you if there are more changes to practices. We are following NSAA Wet Bulb Globe Thermometer Guidelines. For additional questions, please get in touch with CKHS. See
https://www.cody-kilgore.com/
for more details.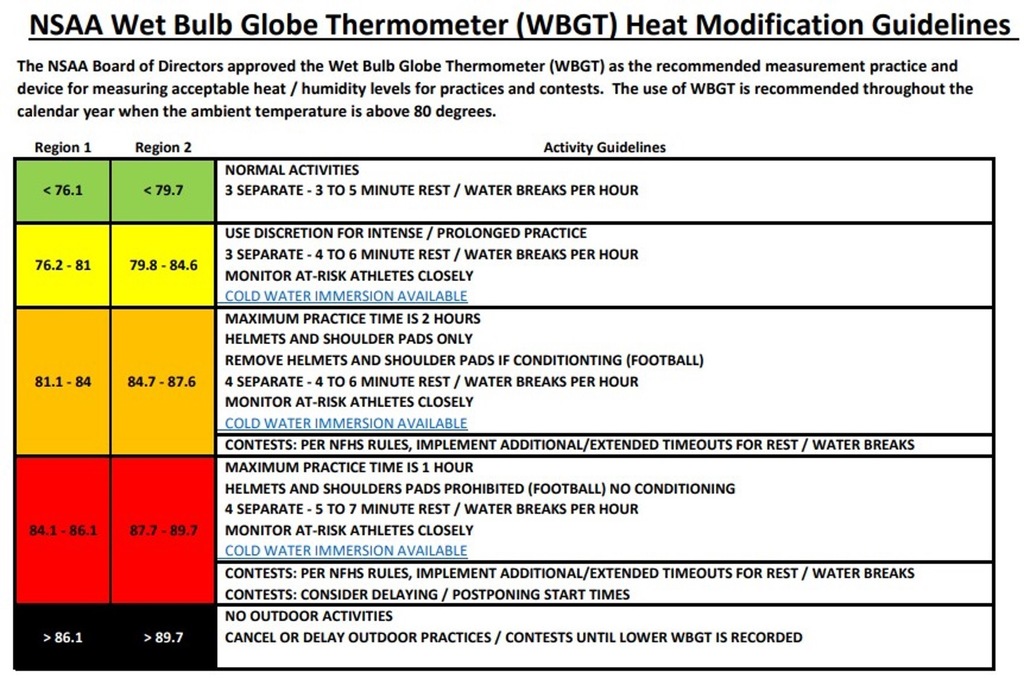 School Pictures will be taken on August 31st our back up date, due to the expected hot weather next week. Sports pictures will still be taken on Wednesday, August 23rd for Junior High and High School. Please send uniforms with students that day.

The Welcome Back Picnic will be held at the Elephant Hall! See you there!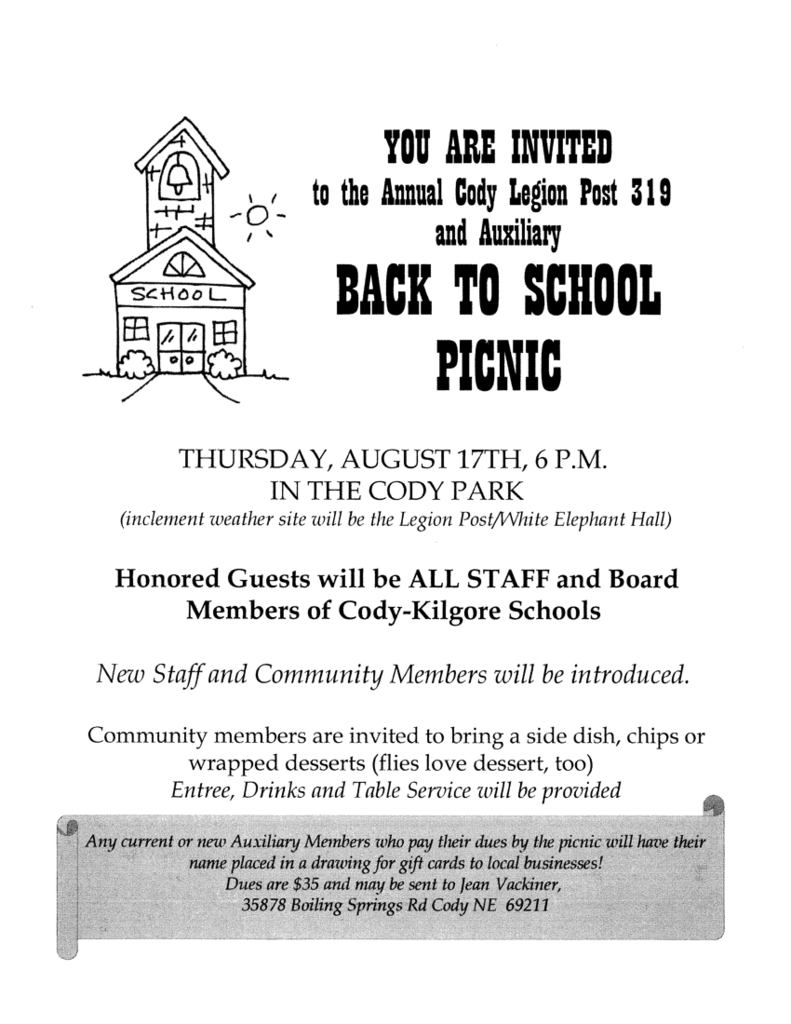 Attention Middle School and High School Students! Friday School Days are Hat Days. Wear your caps on Fridays!
Cody-Kilgore students enjoyed their first day of school. Thank you Cody-Kilgore staff for all that you do.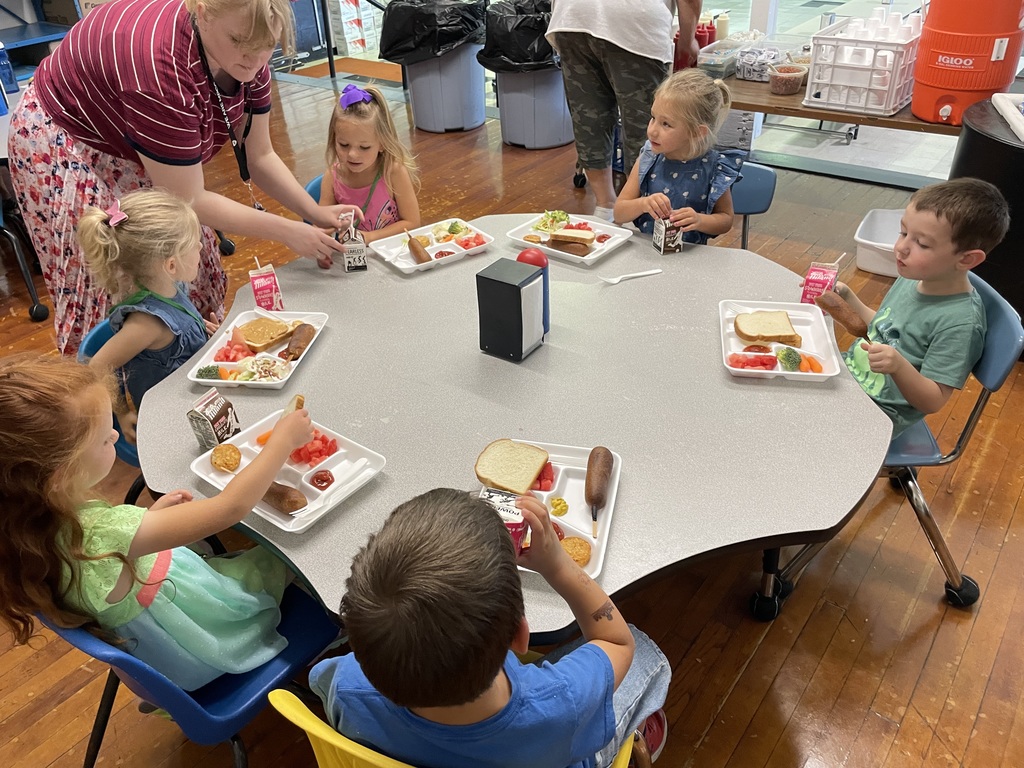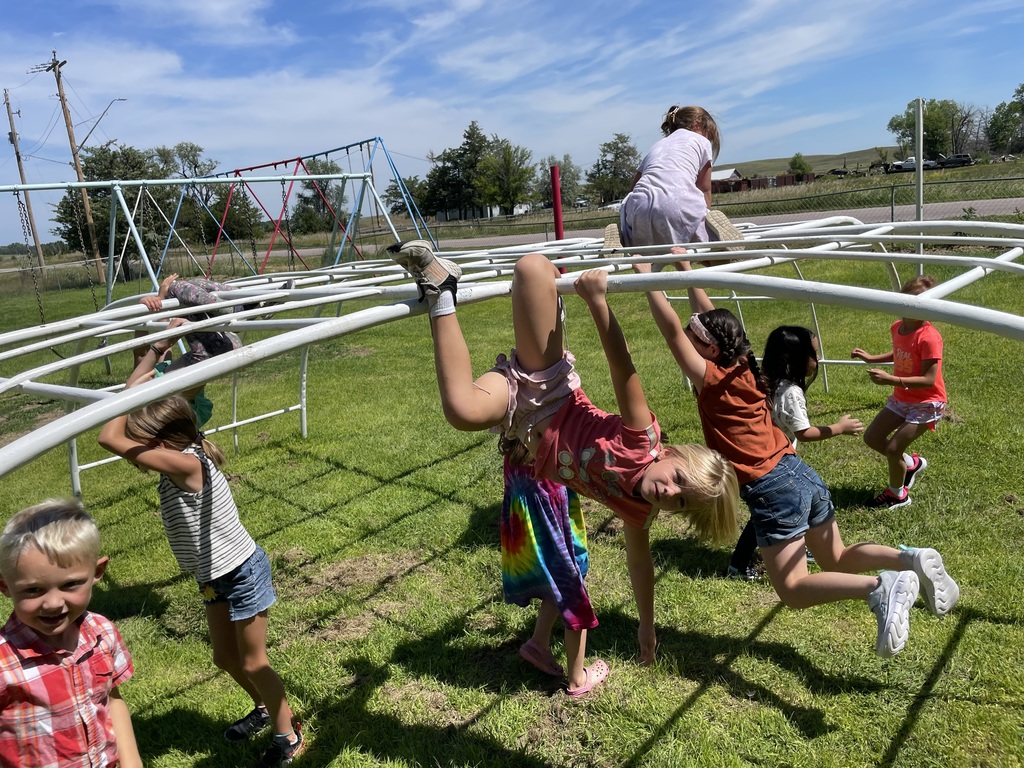 There is a parent/coaches/AD meeting on Thursday at 5:30 pm. This is for the HS parents of athletes this season. It will be followed by the Picnic at the Cody Park sponsored by the American Legion and Auxiliary @ 6:00 pm. There will be no late bus on Thursday so everyone can attend the picnic. Thanks!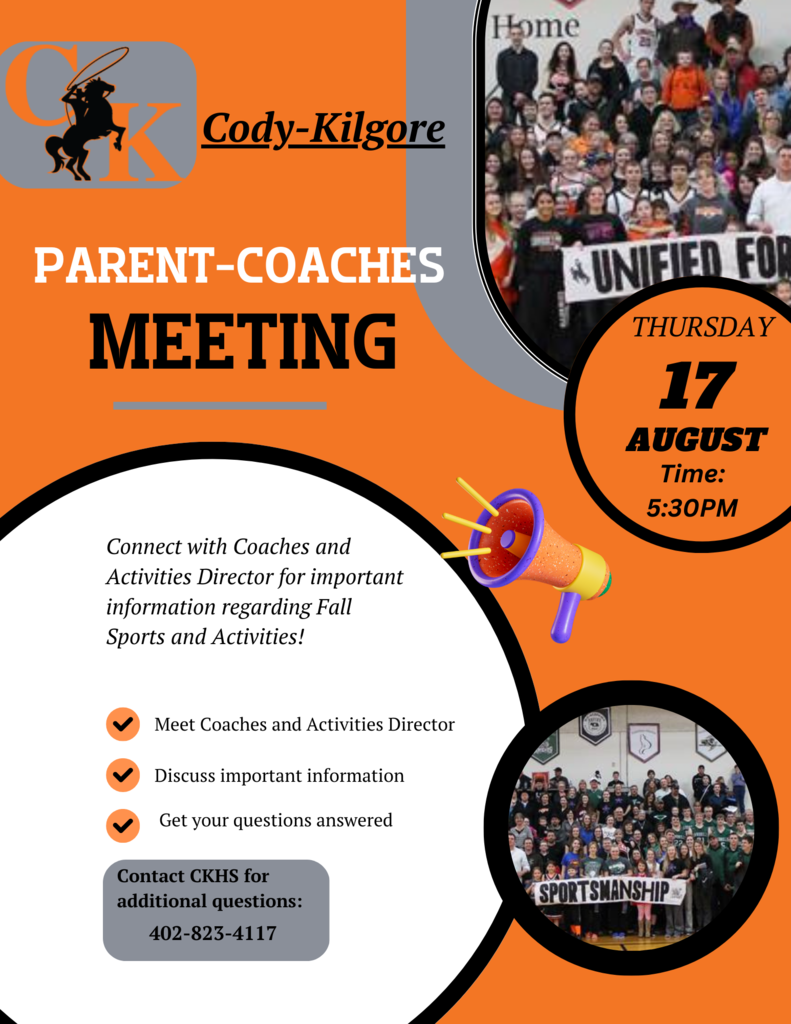 JH girls will have Volleyball practice after school on Wednesday. JH boys will have Football practice after school on Thursday.

Elementary Open House today 3:00 - 5:00 pm!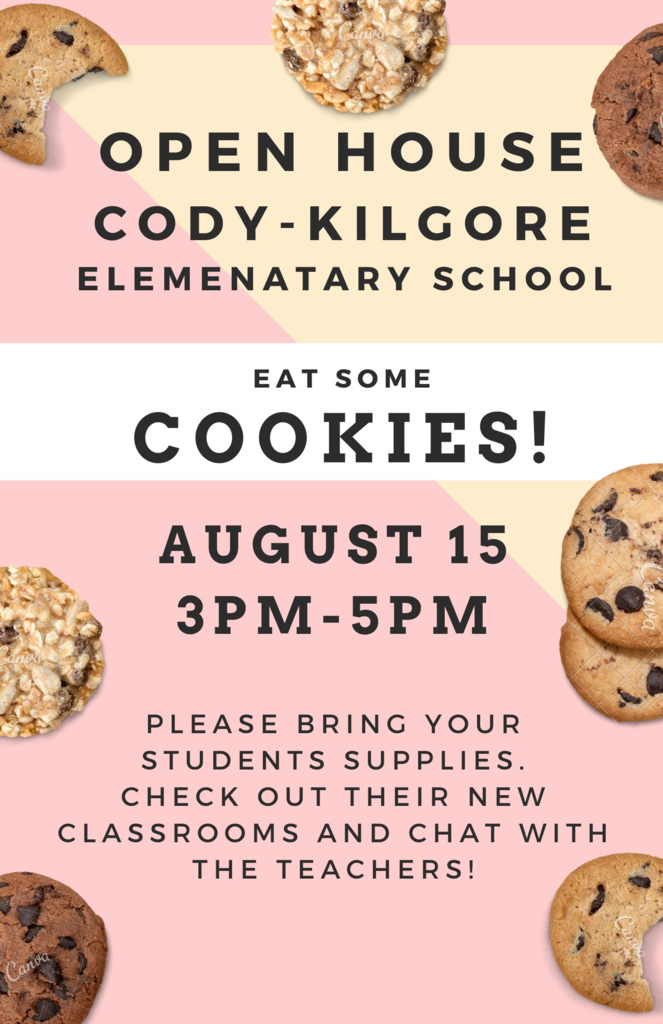 Please be sure to check your email for our first bulletin of the year. It is also posted on our website, app, and facebook. We will also be making an all call too. If you want to be added or taken off the list please contact Carrie Ford at the Cody Office - 402-823-4117. Thanks!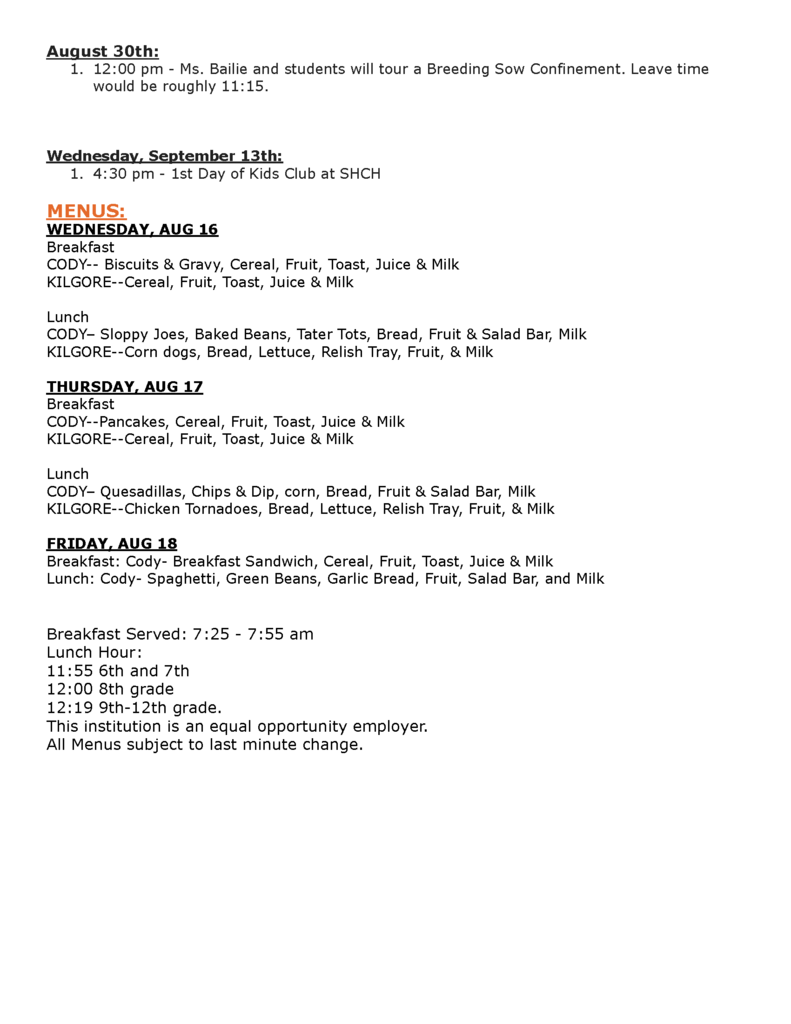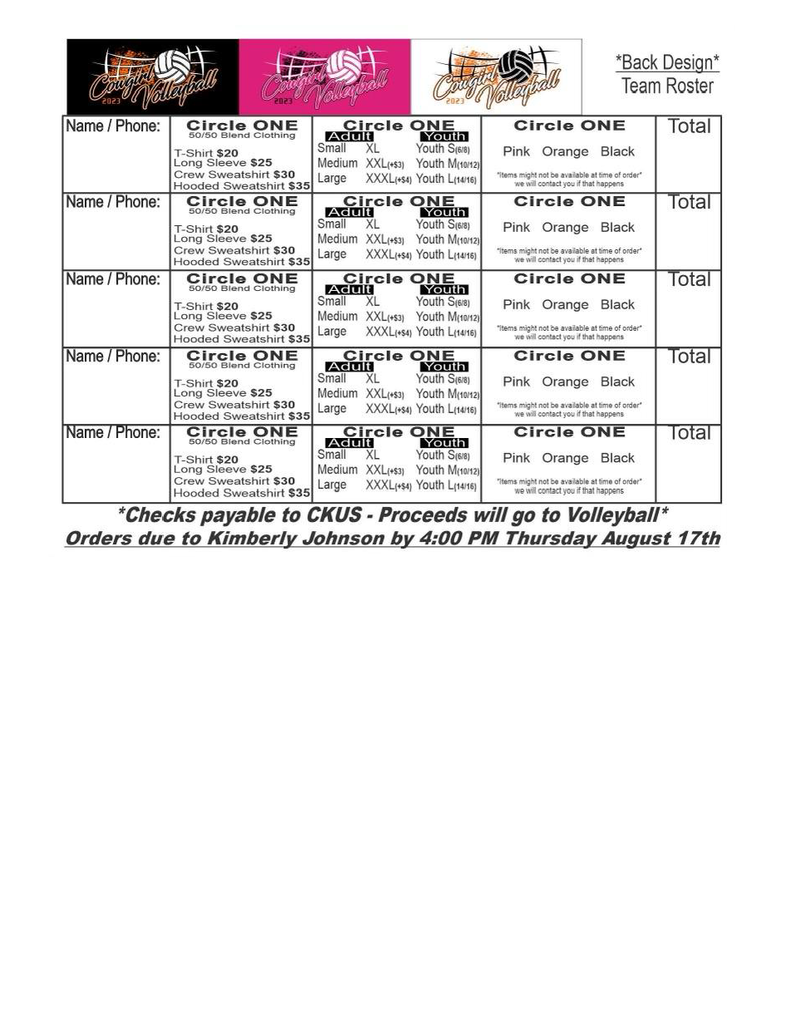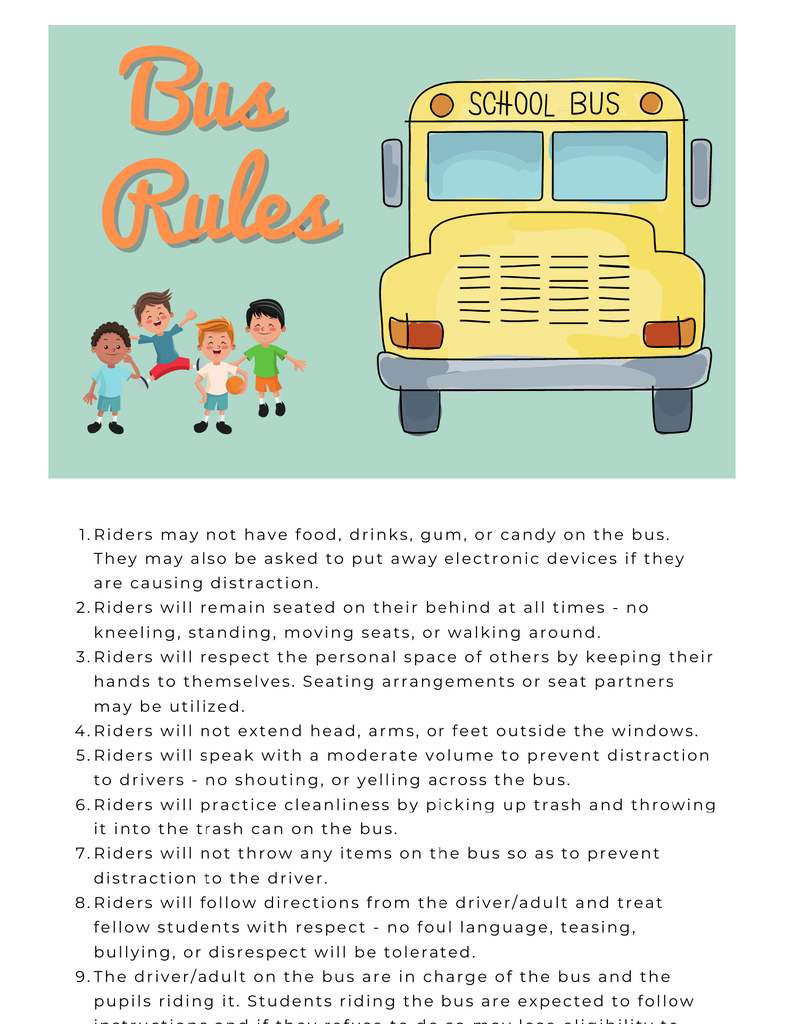 Volleyball shirts are available to purchase. Please check our live feed on on our app or website or look on Facebook for details. Orders are due by 4:00 pm on Thursday the 17th.
School Board Agenda August 14, 2023 Kilgore Cottage 6:30 pm 1. Building Project 2. Season Passes 3. Board Policies 4. Property Tax Authority Certification 5. Approve Strategic Plan 6. Budget Transfers Gen Fund 7. Elementary Para Position 8. Official Bus Inspector 9. Safe to Return Plan 10. Depreciation Plan 23-24 11. Power School Consortium 12. Additional Cameras 13. Option Enrollment 14. Volleyball Jerseys

Wednesday Practice - Football @ 6:00-8:30 pm Thursday Practice - Football and Volleyball @ 6:00-8:30 pm NO PRACTICE on Friday


Welcome back letter from Mr. Orrock.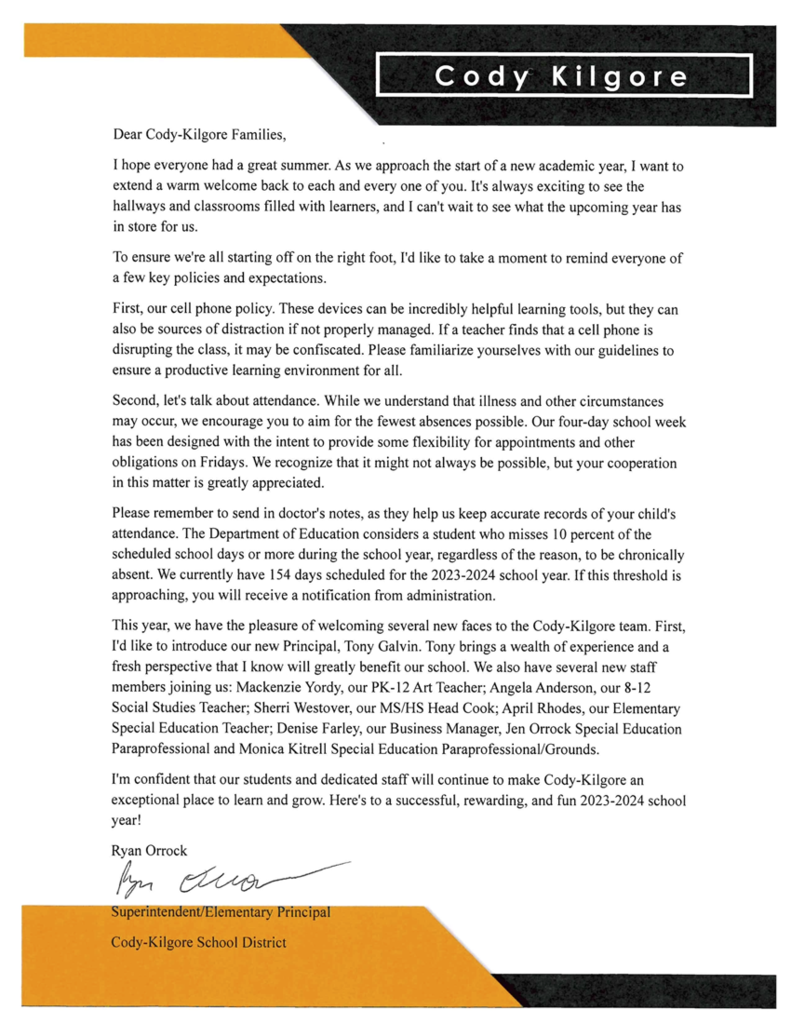 Reminder that tomorrow, Monday 8.7.23, will be the first day of practice for HS Football and Volleyball. Vans will leave Crookston and Merriman at 5:10 pm and stop in Kilgore and Eli along the way to Cody. Practice will be from 6:00 pm to 8:30 pm. Please contact Carrie Ford if you have questions regarding transportation at 402-389-1515